Browse:
Home
/
Women's wear
This weekend you'll have a ton to celebrate! Fashionotes brings you the top 5 fashion and technology stories that have us amazed.  Read More
March 14, 2014 | Uncategorized |

This week's Eye on E-Commerce spotlights London-based Avenue 32, an online retailer offering luxury women's wear including: clothing, bags, shoes, jewelry and accessories.  Read More
February 13, 2013 | Uncategorized |

Captivated by the talent and energy, of independent designers, Laura Adamson was inspired to start an e-commerce site geared at supporting and selling their product. Read More
September 5, 2012 | Uncategorized |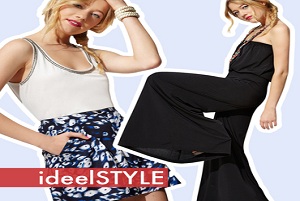 With IDEELI.com, we now have even more reason to look forward to lunch time.
August 30, 2012 | Uncategorized |

Diesel is hoping for a little women power. With the denim brand typically focusing on the men's line, Diesel is calling it "the rebirth of the Diesel female." Read More
August 3, 2011 | Uncategorized | 1