It's finally here- the long weekend. We know how you're itching to fire up that BBQ, soak up some sun and, of course, get out of the city for the weekend. To make preparing your bag a no-brainer, I've compiled a list of 5 Revolve Clothing must haves for a weekend away. Read More
May 16, 2015 | Uncategorized |

The iconic sneaker company is bringing back their on trend classic; the track suit, with a hashtag campaign and it's going viral.  Read More
November 3, 2014 | Uncategorized | 2

It's amazing with what technology can do for us today! It's even more amazing when technology meets fashion! Check out this week's top 3 Kickstarter projects that need your back:
March 10, 2014 | Uncategorized |

This season, ALDO presents a campaign as fresh as the grass is green, celebrating the days when summer's great escape is an adventure close to home.
April 29, 2013 | Uncategorized |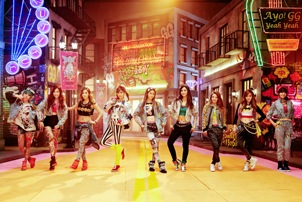 K-Pop has hit the U.S. and it's no surprise that the musical group Girls Generation has taken the global pop world by storm. The cheeky nine-member girl group released their single I got a Boy in the beginning of the year and since then has become a viral sensation.  Read More
March 5, 2013 | Uncategorized |

Have you ever thought of adding speakers to your sneakers? Well, Ray Kingston Inc. has. In fact, the New York-based studio is looking to pump up your kicks in a whole new way! Read More
December 24, 2012 | Uncategorized |