Browse:
Home
/
Oscar de la Renta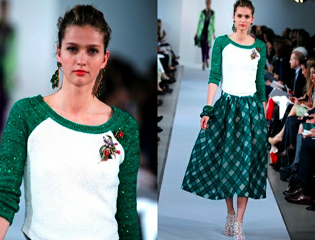 Walking down the street you snap a photo of something that inspires you. Then, imagine sending that photo to Instagram and creating a vivid image that will look amazing as the starring pattern of a new dress you want to design.  Read More
December 7, 2012 | Uncategorized |

Chances are if you're "in the know" with fashion brands, technology, and have one other type of social media account other than Facebook, you probably have a Twitter account. In 140 characters (or less), Twitter is the voice of not only fashion brands but fans alike. Read More
October 23, 2012 | Uncategorized |

The wait is almost over! Twenty-four of America's finest designers will be joining forces with Target and Neiman Marcus for an exclusive, limited-edition, Holiday Collection.
Read More
October 23, 2012 | Uncategorized

In comparison to Twitter, Tumblr is like Twitter's more creative, artsy cousin. That sense of creativity and artistry is one aspect that sets this platform apart from other social media outlets. Read More
October 16, 2012 | Uncategorized |

The Fashion Week party is over, but don't worry FASHIONOTES has something to cheer you up. We bring you the five best digital fashion devices featured in New York. Read More
September 18, 2012 | Uncategorized |

If you didn't have a chance to attend Fashion's Night Out last night in New York, WWD brought us a list of tweets from the night.  Read More
September 7, 2012 | Uncategorized |