Browse:
Home
/
Just Cavalli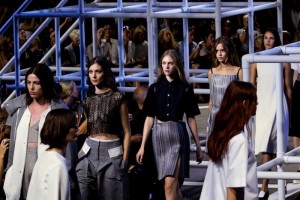 It is only midweek and already so much has happened in the world of fashion and technology. Keep up with the top 5 stories you need to know today right here at Fashionotes. Read More
January 15, 2014 | Uncategorized |

Spinoff lines are the new ish for designers, and many have developed into standalone collections (ahem, Miu Miu). Here are some of our favorites, along with select fall pieces. Read More
May 31, 2011 | Uncategorized | 1

Think the mix and match print trend is limited to the runways of Paris, Milan, London or New York? Think again!
Read More
May 12, 2011 | Uncategorized | 3

Goodbye snow—we hope!! Hello sun—here to stay?? Read More
April 19, 2011 | Uncategorized | 4

Roberto Cavalli brought together the energy of New York City and the free spirit of the Seventies for his contemporary and girly Just Cavalli pre-fall collection. Read More
December 26, 2010 | Uncategorized | 1