Browse:
Home
/
blackberry
TGIF fashion followers! We have five exciting fashion and technology stories coming your way. Read More
November 22, 2013 | Uncategorized |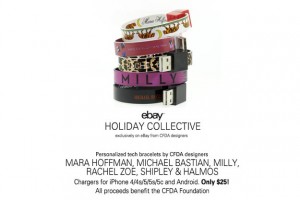 eBay has decided to merge technology and fashion. The result? A wearable bracelet that's oh-so-convenient.  Read More
October 30, 2013 | Uncategorized |

It's Wednesday again and FASHIONOTES is rounding up the must-read stories this week. Get everything you need to know about fashion and technology at the click of your mouse. 
Read More
February 6, 2013 | Uncategorized |

The hype around the new BB10 is abuzz and BlackBerry aficionados as well as BlackBerry virgins are ready to make the switch. Read More
February 5, 2013 | Uncategorized |