This year one of the most talented designers in fashion, says goodbye to the LVMH power house; with 16 years of spectacular success we can't wait to see what he does next. The dynamic talent we are speaking of is, cool and eccentric designer, Marc Jacobs. After a long yet amazing run with Louis Vuitton, the designer calls it quits, but not without going out with a bang! Marc unveiled his last collection for Louis Vuitton during Paris Fashion Week, which was a whimsical mix of goth and show girl. Think heavily embellished tuxedo jackets with sheer and feather accents, headdresses were also part of the phenomena.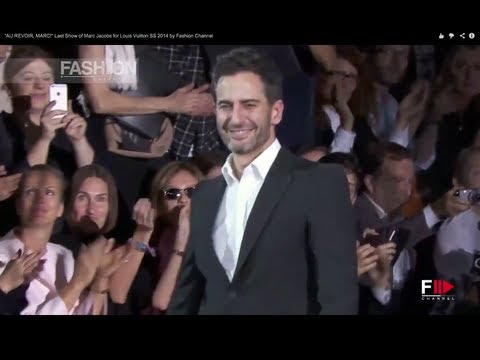 The panel accents add a touch of sexy, while embellishments gave the pieces a fresh take on black on black layering; the look is quintessential Marc Jacobs. We at FASHIONOTES love the sheer tops and denim pairing, we died for the textured moto jacket and printed denim.
Many of Marc's best fashion moments were lived on the runway, one stand out moment was the mod collection of SS 2013 and how he made us swoon by putting on one of the most creative fashion shows of the year. Remember the amazing parade of models dawning Louis Vuitton while stoic on the elevators? Let's just say social media went into frenzy, it was epic!
Another memorable Marc fashion moment was the partnership with creative genius, artist Takashi Murikami. The collaboration included art exhibits with exclusive merchandise, including handbags and lifestyle items, dawning curated motifs from the artist. Not only did Marc make his fans yearn for more, he carefully curated a social media brand as well. From cool campaigns to exclusive brand content, you can connect with the brand via Facebook, Twitter, Instagram and YouTube. Check out the full SS 2014 runway show below.