A future with advanced technological wear may be upon us sooner than we think. Within the past couple years, there's been a lot of videos, seen on the Internet, regarding projection mapping; enough to fuel interest within the fashion industry to now use that mapping technology on garments. However, unless you're in the tech world, you probably don't know what a mapping system really does. So, leave it to us here @FASHIONOTES to give you all the cool details.
Projection mapping, also known as video mapping, is the projection of a three-dimensional scene onto a flat surface, like a building. It's carefully mapped out so that it could create this magical 3D visual effect, bringing that object to life. This technology has been used for art, advertising and a variety of other public space ad campaigns usually seen on the side of buildings. However, until recently, has it been used within the fashion industry on shoes and apparel.
Imagine, a technology that could transform your day outfit into a glitzy, sparkly number for cocktail just by entering a room, without ever having to change. The idea is to take your daily wardrobe and make it more, well, futuristic. While remaining in the same outfit, each different places you visit, your wardrobe changes colors, patterns and shapes. It transforms into something completely different and approximate for the occasion.
This would only be possible if a powerful computer is stored somewhere within the building; and the room is equipped with different projectors, detectors and motion sensors that would be able to use projection mapping to add cool lighting, patterns, shapes and textures to everyone's garment.
Although, there may still be a lot of work in progress, this innovation may reinvent the future of fashion and how we wear our clothes. Whether we start seeing it first on shoes or apparel, we're keeping a close eye on this one.
Watch the spectacular video demonstration below (without the 360 degree capability) produced by Flurry Interactive. It virtually shows how video mapping can morph a simple New Balance sneaker into different colors, shapes and textures right in front of our eyes!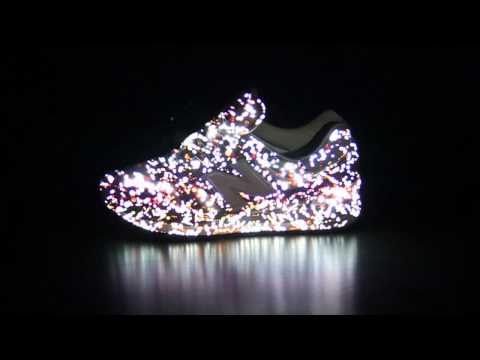 Via Bit Rebels