Fashion designer Elizabeth Bigger has taken fashion and technology to the next level with her new collection Lüme. 
Elizabeth Bigger recently debuted her fashion tech forward collection, Lüme at the International Symposium on Wearable Computer. The designers new collection features pieces that have built in lights that are controlled with a smartphone app. Here's how it works.
With their smartphones those who wear the collection control the lights that are embedded into different pieces of the collection. From their smartphones the wearers have ability to control the apparels light patterns, for example, color and brightness. Also, wearers can make it so that the lights react to different things around them. Lastly, Lüme clothes can change in tune with music, weather and social media feeds. Ultimately, depending on how you are feeling when you are wearing Lüme clothes or where you are wearing them the power is in your hands, to change the colors of the lights and the brightness. You are always in control.
We at FASHIONOTES love how Bigger combined fashion and technology to make a comfortable collection that the wearers have the ability to control depending on their mood and surroundings. Also, we love how you can create completely different looks by simply changing the colors and brightness of the lights. Multiple outfits for the price of one, every girls dream!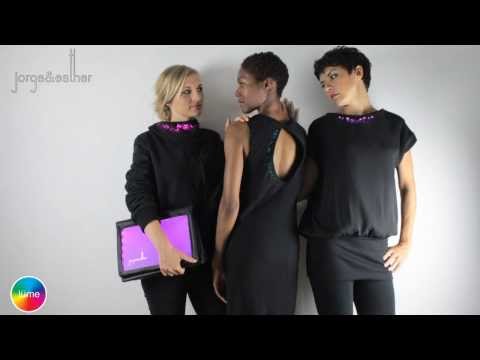 Via PSFK