With each season comes new and exciting trends, although that doesn't mean they're for everyone; you should decide what works for you. Sometimes you have to try something out to decide if it's for you, so I'm going to be sharing the top trends of the upcoming season I'm looking forward to trying out. Although I hate when the summer comes to an end and we have to say goodbye to the hot afternoons and longer days, the new fall trends hitting stores and magazines are always one thing that makes the changing season a little more bearable. There are four trends that I'm looking forward to giving a try when the cooler weather hits.
Leather is the new Denim
Leather pants used to be something that I would shy away from, with the feeling that they weren't for me but recently I'm less afraid of taking fashion risks and going for looks that are more daring and edgy. Denim and leggings are always an easy go-to but I think faux leather leggings dress up the look and will become a staple of my fall wardrobe. Throw on a neon top to brighten up the outfit or stick with a black top for a sleek, polished finish. Either way, I definitely think you will be seeing me in these quite a bit this season.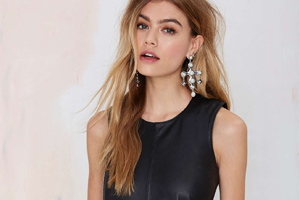 Cutout Booties
Whether I'm scrolling through my Instagram feed, killing time on Pinterest or online shopping, I've been seeing these cutout booties everywhere. I just had to get myself a pair! The cutouts make these different than just your average black ankle booties and I love the sole, with a slight heel/raise off the ground, makes them perfect for everyday walking to and from the office. I've styled these with a dress and tied in a cozy knit to keep me warm but they will be so versatile with pants, dresses or leggings, too.
Long Sweaters
This summer I was really feeling the bohemian look and wanted to find the perfect kimono, although I started my hunt too late in the season and the thin silky fabrics will not keep me warm enough in the fall. So instead I'm excited to wear long boho sweaters, basically the kimono of fall, if you will. The longer sweaters will not only keep me cozy and warm, but also looking stylish.
Knee-High Socks
Walking by the Zara window displays and seeing the mannequins dressed in their fashionable office wear left me daydreaming and styling different looks in my head – the key piece of the outfit always being knee high socks. I don't know what it is about knee high socks, but they're so chic! Though, there is definitely a fine line that we need to be careful about crossing. The idea is to look classy, not trashy. Since I am petite, I need to find the balance between a skirt or dress that is not too short but still have skin showing between the top of the sock and bottom of the hem line. I'm going to give it a try! Let me know your thoughts, does it work for me?
Only You should decide what works for you. Try it For Yourself U by Kotex Extra* Pads. It has a super absorbent core with comfortable protection. Plus it's the only pad with dual side covers. You can get a free sample from U by Kotex too at www.ubykotex.com/get-a-sample and Do the Demo.
Disclosure: This post was brought to you by U by Kotex via Glam Media Canada.  The opinions expressed herein are those of the author and are not indicative of the opinions or positions of U by Kotex.