Stephanie Gentry is an emerging fashion designer based in Atlanta Georgia. Her reception into the fashion world commenced with her winning the Emerging Fashion Designer competition, by ThunderLily, a fashion incubator based in New York. During my interview with Stephanie, she candidly and enthusiastically shared that as a child she used to pretend she was a costume designer for figure skaters; and that while she initially majored in illustration, she switched to fashion.
"I fell in love with the challenge and art form of creating something on a persons body, rather than on a canvas," says Stephanie.
As a recent Savannah College of Art and Design graduate, Stephanie expressed that her vision for the future of fashion, is that more designs be made digitally. This way the fashion world can be open to more emerging designers.
"As less patterns are made by hand and more digital pattern making programs are being used, that eventually it may become the "old school" way of doing things," comments Stephanie.
She mentioned, during the interview, that 3D designers who may not be specialized in pattern making by hand, or who may work out of state can have more opportunities and that designing with 3D technology makes the process faster.
Stephanie's clothes are the first to be designed entirely in the virtual space. Her designs define urban chic and are a mix of architectural lines and romantic ruffles. See how she develops patterns and designs in this short video.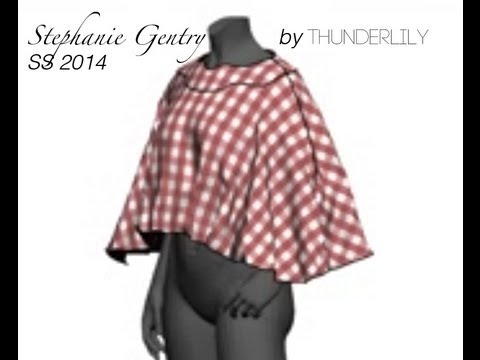 ThunderLily and Columbia University have worked together to develop the 3D software Stephanie uses. When asked what the main challenges of using the software are Stephanie responded that complexity in her design attributes such as ruffles and upward curves actually prompted the developers of the software to create new technology. This allows designers more free range and options in creating designs. Stephanie also responded that since she is based in Atlanta, it's difficult being out of state, but that ThunderLily has been supportive and encouraging in both showcasing and manufacturing her vision.
"Clare (ThunderLily CEO) is great though," says Stephanie. "She always gives great fabric advice and is very good at helping me where I fall short because I live in Atlanta; it is very hard to travel to New York to see everything they have. So she is able to help me with sourcing and things that would be very hard to get to on my own."
ThunderLily submitted Stephanie's designs to be featured at Phoenix Fashion Week, October 1 to 5, 2013. She and 11 other designers will be competing for a $10,000 prize, Zappos.com merchandising and title Designer of the Year. In my interview with Stephanie, she expressed her excitement about Phoenix Fashion Week.
"I am thrilled to be a part of this competition, declares Stephanie. "First off, because I love friendly competition but also it is such a great opportunity. I am working with the best people I could possible imagine."
We are wishing Stephanie the best of luck and will be keeping our eyes on her as one to watch. What are your thoughts on more designers using 3D technology to make their designs? Tweet us your thoughts @FASHIONOTES!
Images courtesy of ThunderLily