House of Holland, is hitting the road with Mr Quiffy, a mobile flagship store set up in an traditional British ice cream van, to sell an exclusive House of Holland summer capsule collection. Henry Holland himself will be behind the wheel, taking Mr Quiffy across the UK to get to know his customers.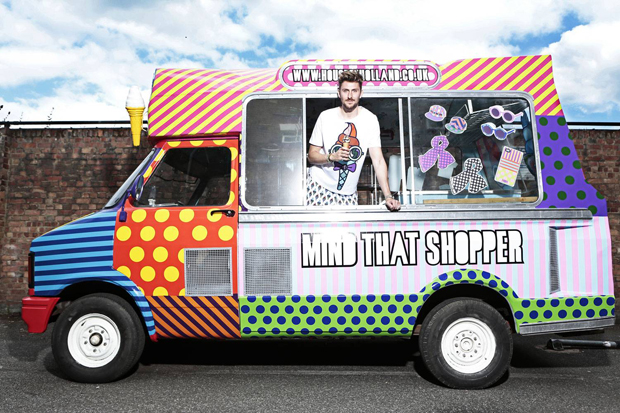 Inside the brightly decorated van, you'll find everything from accessories, jewellery, headwear, eyewear and even iPhone cases, all decorated in the brand's signature polka dots, candy stripes and acid brights. Prices will be ranging from 15 to £150, lower than the brand's usual retail price.
"It's a lower price point than usual," said Holland. "After all, we're asking people to buy from the back of a van" he explained.
The traditional ice cream van was bought on Gumtree and given a House of Holland style makeover. As for the name Mr Quiffy? It's aptly named after Holland's highly-styled signature quiff of course.
It's not everyday you find a designer driving around in an ice cream van full of his merchandise. By using Mr Quiffy, Holland hoped to create a fun and engaging way to get to know who his customers are. The venture was also designed to draw attention to House of Holland's new e-commerce site, which launched the same day as the van.
Mr Quiffy's first of many stops across the UK, was in central London's Covent Garden, and superblogger, Susie Bubble was there to witness Mr Quiffy's colorful debut.
"So wowed and impressed by @HouseofHolland #MrQuiffy van at Covent Garden Piazza," she expressed via Twitter, with a picture of herself and Holland and don't forget Mr Quiffy in the background!