During fashion week in Paris and Milan, shows have become more theatrical with the audience anticipating the surprise of each runway and wondering who will steal the spotlight. Nonetheless, DSquared2 shined this year. Kicking-off its show at the Menswear Fashion Week in Milan, DSquared2 featured shirtless male models showering underneath a waterfall, in their tighty-whities to debut the spring/summer 2014 collection.
DSquared2 brought male hotness to the runway, like never-seen before. The show opened with a papier-mâché plane wreck on a fantasy, tropical island surrounded by lush green plants and a waterfall. By now you're probably asking, "An actual waterfall on the runway?" Yes, an actual waterfall equipped with falling water where a chiseled male model stood showering underneath. Then, he steps out and is handed a pair of black, wide-rimmed glasses and a towel to dry off before making his way down the runway.
The show had a retro 50's flair in a sense that it brought back fashion elements, including: big, wide-rimmed glasses, leather jackets and jeans cuffed up to the top of the boots. It's James Dean meets tropical island, safari wear.
DSquared2 brought zest and edge to its men's spring/summer 2014 collection. It's hip, fashion-forward and daring. We mean, you have to be, to wear capris and carry a man bag. The collection consisted of underwear, shorts, t-shirts, denim pants, capris, blazers, leather jackets and accessories; which included ties, boots, hats, beaded necklaces backpacks and man bags in earth tone shades.
Here at FASHIONOTES, what we like most about the collection is how it's casually cool, yet had pieces that could mix and match for a dressier evening cocktail event. Hence, the show's finale, which had the male model wearing a tux jacket, button-down shirt and bow tie, paired with a grass skirt over jeans cuffed at the hem and a live parrot on his shoulder. What a combination. He looked as if he was the groom of a more casual, island wedding where it's all about being unique and having fun!
Check out the whole fashion show below.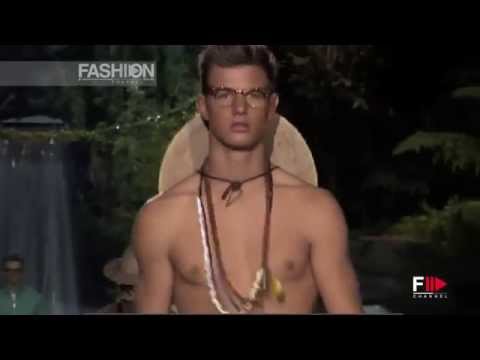 Via Fashionista