In the latest Prada Women's fall/winter 2013 campaign film, viewers see models auditioning to be Prada's next star under the glaring spotlight. 
Decked in full Prada autumn collection wear, nine models are seen acting out certain parts of a script or waiting for their auditions, backed with sensual music. Models Sophia Ahrens, Freja Beha Erichsen, Caroline De Maigret, Malaika Firth, Kristine Froseth, Catherine McNeil, Amanda Murphy, Cameron Russell and Fei Fei Sun are all featured in the film. The video reminds us that the epitome of the Prada woman is sensual, mysterious and confident.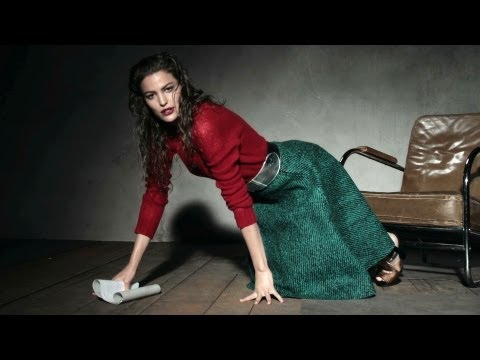 The description for the video aptly describes the mood and atmosphere of the film:
And, Action! Under the glare of the spotlight, and the watchful gaze of the casting director, nine young hopeful actresses take centre stage and prepare for their close ups. The hunter and the hunted, watching each other like wild beasts. One by one they are selected and cast aside like slides in an ever revolving carousel. A dance between reality and fiction, these women are not who you think they are…
After watching the video, it definitely gives the printed campaign a new meaning.
So what do you think? Has the video piqued your interest? Who would you pick to be the star of Prada? Let us know @FASHIONOTES!