The new Versus Versace look has wicked edge and a new digital campaign with major millennial appeal; it's out with the old and in with the new. 
The new Versus collection unveiled earlier this month was a rendition of classic Versace motifs on fresh new shapes. The modern sportswear capsule collection for Versus is inspired by 90's Versace. Looks are minimalistic with punkish accents and include vinyl textures. Key cool pieces, such as bomber jackets and collared blouses with chain motif, sleek tuxedo jackets and cut out frocks, pump up the volume. We at FASHIONOTES love the ode to Elizabeth Hurley's cut out and pin combo dress.
It's no surprise that the collection would be anything but fresh, as part of  the Versus rebranding. The brand is utilizing the interwebs and creating an interactive experience. The new digital campaigns features androgynous models dressed in uber cool Versus, harlem shaking to Everybody Does by Brooke Candy. The collaboration is a sweet and raunchy match, which gives the editorial a street edge. Check out the Versus campaign below.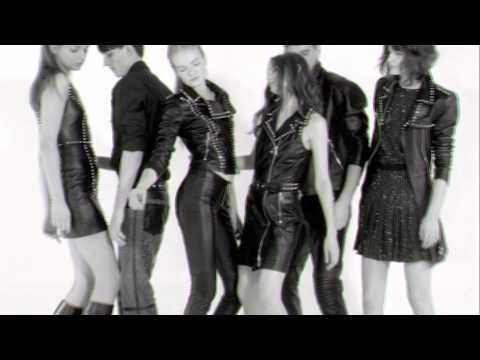 The trippy and blurry editorial is only the beginning of many innovative mediums for the brand as Donatella explains, "Versus will be shown through events all over the world." We love the sound of this!