John Galliano had his first post-scandal interview with Charlie Rose, broadcast journalist and interviewer, in an hour long special, which aired Wednesday night on PBS.
We have all heard about Galliano's fall to disgrace that started from his anti-semitic remark in Paris three years ago, the subsequent charges that were laid against him, as well as his termination from Dior. Now, Galliano has appeared on television to issue a public apology.
Looking rather somber (compared to his previous attires) in a suit and blue dress shirt, Galliano talked about his alcohol addiction, Alexander McQueen and the pressure he felt from working in the fashion industry.
Some notable parts include:
"I knew Alexander. I knew Lee. I understood. That loneliness, that pain…as addicts we're in such perfection, we're setting that bar impossibly high"

"You're only as good as your last collection, which is an enormous pressure."

"I used to drink to stop the voices—there were so many voices. Already, in real life, there were so many questions. I would use the alcohol to quiet them"

"Sometimes I was acting like God. Now I know I'm not in the driving seat."
An excerpt: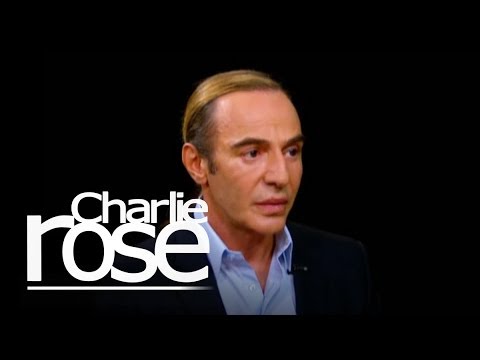 You can find the full interview here.
The interview ended with Galliano asking for "a second chance." Do you think he deserves a second chance? Let us know @FASHIONOTES!
Via Styleite