With the world becoming more glamorous everyday, entrepreneur Sir Richard Branson believes it is time to follow the glamour trend and vamp up the look of his airline, Virgin Atlantic. What's a better way to do that than by hiring world-renowned fashion designer, Vivienne Westwood? The vision behind this dynamic partnership is to "bring glamour to airline travel" and that is exactly what Westwood did.
Westwood kept the Virgin Atlantic tradition alive by using the airlines signature color red, while also giving the uniforms a stylish new personality, by adding 40's nipped in waist and "Savile Row touches."
Not only did Westwood make Virgin Atlantics uniforms lavish, she made them environmentally friendly. Westwood used sustainable fabrics such as, polyester made from recycled bottles. Also, she took her green thumb one step further by using recycled brass and canvas, discarded leather pieces and old roadside banners through the Ethical Africa Program to create bags for the ground staff.
We cannot wait to see the unveiling of Virgin Atlantic's new high fashion uniforms by Westwood and we are sure you can't either. Keep your eyes peeled in July, as the uniforms are put through a trial run. If all goes well 7,500 Virgin Atlantic crew members will be styled head to toe in Vivienne Westwood.
Check out a sneak preview of the Branson and Westwood collaboration below.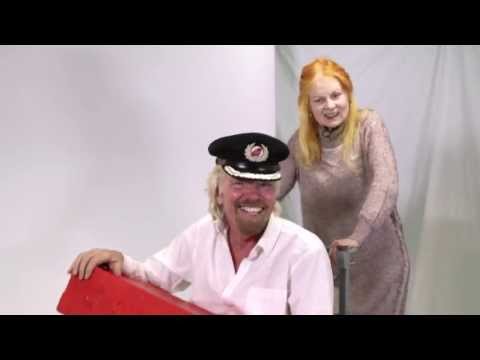 Kind of makes you want to apply to Virgin Atlantic, doesn't it?
Via Fashionista