From smart casual to formal to chic, the new Chanel Première watch is a perfect fit. Chanel has got the film to prove it. The Première watch collection is being marketed as an accessory for any occasion and for any woman. From the creators of classic style and taste, Chanel is debuting the line in a short film, with several stylish women going about their daily fabulous lives avec montre. As we've seen in the past, Chanel will most likely feature the Première collection in an ongoing multichannel campaign.
The collection is made up of larger and smaller versions of the timepiece made from white gold, yellow gold and steel. The face is black lacquered in a rectangular octagon and the strap is a chain-link bracelet. Some styles include diamonds on the face and wristband for an added touch of luxury. The look is very versatile and adaptable to any wardrobe, which is what Chanel intended to evoke through the quick and playful video. Women are seen cabbing, painting, biking, lunching and shoe-trying with the watch demonstrating its classic style.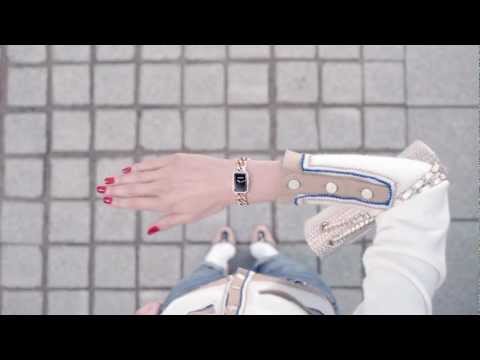 In the past, Chanel's J12 watch line utilized a multimedia campaign from magazines to apps where people could virtually see how the watch looked on them. If this is any indication of what Chanel has in store for us, this short film seems like it is just the tip of the marketing iceberg for the Première collection. It seems to be a great start because the watch is irresistible in the commercial alone!
Via Luxury Daily