Inserting a little fashion talk into our mid-week stretch, view André Leon Talley's latest Monday's with André video featuring the spectacular Tom Ford. 
The weekly Vogue video series often profiles designers, latest style fashions, or even actors. This week, Talley interviews Tom Ford and gets him to open up about his latest runway designs, as well as a small new addition to his stylish clan. Ford, with longtime partner Richard Buckley, announced the birth of his first son Alexander John Buckley Ford.
In the video, Ford routinely addresses his son as 'John Ford' due to what he claims is his incredibly long and fancy name. Talley and Ford even take a few minutes to take about the nitty gritty, diaper changing! In true Talley diva fashion, he visibly cringes at the mention of diaper changing and responds with an aghast face. An interesting tidbit though – Ford confirms that the diapers he uses are both biodegradable and all natural. How green!
Ford also takes the time to dish about his second baby, also known as Tom Ford Fall 2013. The biggest inspiration of the line? A-list celeb Rihanna!
Watch Tom Ford and André Leon Talley get down to business, in the video below.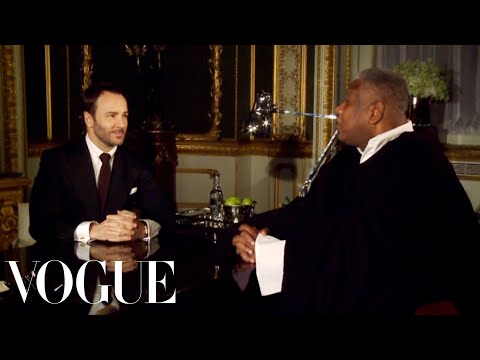 Via Fashionista