If you have ever heard the technology-induced, multi-instrumental and eclectic mix of sounds by Imogen Heap, then you will be glad to know she has designed a special tool to enhance her performances: gloves. Yes, gloves, but they are not your ordinary hand wear.
According to her website, the intention of the gloves are to incorporate every piece of equipment and instrument she uses when she performs so that her audience can experience her soundscapes:
If you've seen Imogen play live, you'll have noticed a shed load of tech and wires, some attached to her, some not , with her, racing about between various pieces of gear with small microphones attached to her wrists and a headset mic, singing, looping, playing percussion, keyboards, and of course applying effects to all as she goes. It's great fun to watch, but she always felt frustrated, adapting music to the tech, rather than the other way around and making the best she could with off-the-shelf devices available in the rushed time between album and touring cycles.
The Ableton controlling gloves are designed to allow artists to, "Use a unique gestural vocabulary, motion data-capture systems, and user interfaces to parameter functions developed by Imogen Heap and her team, artists and other users will be able to use their motion to guide computer-based digital creations." In effect, the gloves are stylish instruments/ sound controllers that are super cool and alleviate the burden on artists who wish to use a copious amount of sounds in their music making.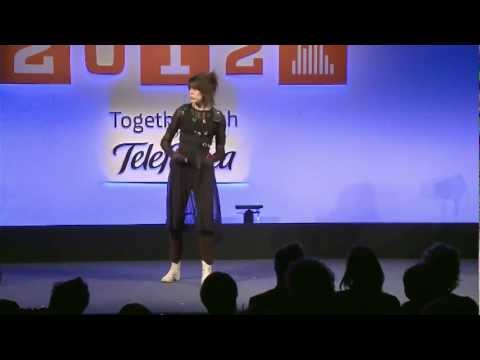 In the video above, Imogen demonstrates her new technology at Wired 2012 in London, a festival that celebrates people who are innovative thinkers and are reshaping the world as we know it. Imogen has also been posting Heapsongs every 2 months on her website since April 2012 and they were created using her extraordinary gloves.
Personally, as a longtime fan of Imogen, I would take take the opportunity to see her play live with her gloves in a heartbeat. Is this the future of creating music? Will we be seeing our favorite artists perform on stage who are half robot half human? I can't say, but I also can't say it wouldn't be an electrifying experience.
Via Imogen Heap