Imagine a manicure inspired by a famous piece of designer clothing, oh wait Yves Saint Laurent already did. Matte black nails with shiny tips (french manicure style) where debuted by YSL last season, cleverly resembling the brands classic-black velvet blazer. This manicure is still highly popular among models, celebrities and "Do-It-Yourselfers," all over the globe!
Remember this look debuted in black, but you are welcome to use any color you want to create the same matte, shiny french-tip look!
We really enjoyed this tutorial from beauty vlogger Lilith Moon; she easily shows you how to achieve this hot nail style in a few easy steps!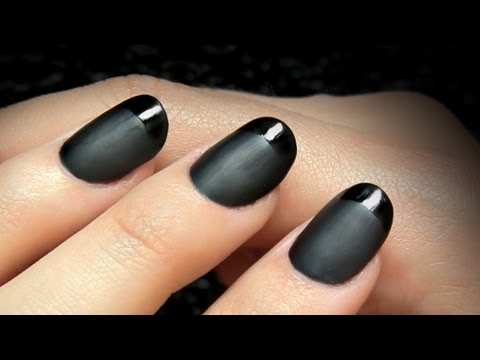 The Steps:
Paint nails with a base coat of clear polish.
Paint over base coat with black polish.
Let dry for two to three minutes.
Apply one layer of clear matte polish over the black.
Let dry for two to three minutes.
To get the glossy tip look, simply paint the moons of your nails with the black polish, or a clear top coat. Both will give you the same results.
Your tuxedo nails are now complete, let dry for five minutes.