In design school, students are encouraged to participate in fashion week during free time. That's how I first heard about "dressing," something that I had originally thought was rather ridiculous. I mean, how hard is it to take off and put on clothes? Well, turns out, extremely hard. Seeing as a runway show only lasts an average of 12 minutes and many models have multiple looks, it has become common practice to have young people, like me, help the models and oversee the treatment of the clothing throughout the show. I hate to glorify myself but I must say, dressers are the unsung heroes of NYFW.
As I entered the Studios at Pier 59 about three hours before show time, I found myself in a fashion whirlwind. Stepping into studio 9 and 10 was like entering an insane asylum. I got caught in a panic of models, stylists, seamstresses, makeup artists, photographers, assistants and even the designer herself, Rachel Comey. The chaos proved to be rather intimidating, so I stood back and watched as others did their last minute preparations. That's perhaps the best and worst part of being a dresser, the wait. Although we are asked to arrive early, there's rarely very much for us to do until the show begins… besides eat, which I'm very proficient at.
There was also the opportunity to mingle with the other dressers. I met students from Parsons and FIT, as well as students from Rhode Island School of Design and Savannah College of Art and Design. Every school has a very different method to teaching, which made it incredibly informative to be able to discuss our various schools of thought and forge relationships that we would not otherwise pursue.
After a while of waiting and careful observation of the goings-on, each dresser is assigned one or two models to assist. After lint-rolling, steaming and familiarizing ourselves with articles of clothing, it's show time. After assisting my model Elina into her first look, I made sure she gets lined up in the correct order and then wait. And wait. And wait. And wait until the lights dim and the music begins to throb, throwing a hush over the audience. And then it happens, the show.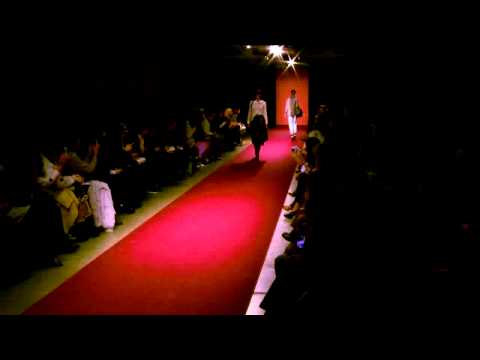 I waited idly until my model came back for her change of clothing  and that's the point where it gets crazy. Carefully ripping off the first set of clothes and throwing on a complex new outfit is not an easy feat; I even watched another dresser try to stuff a model's size 10 foot into shoes that were at least two sizes too small. Fashion was never meant to be comfortable. As I attempt to quickly buckle her shoe seconds before she descends the runway, I realize why it's so important that people like myself are there to assist.
Once the frenzy is over, the whole cast takes a collective sigh of relief. Cleanup is as swift as the show itself; we carefully hang up all the outfits in their garment bags, stack up the purses and shoes, then are free to leave. That day I left with the most stupid grin on my face because I knew I had been part of the shows success. Not to mention, played a crucial role in helping Elina avoid a catastrophic wardrobe malfunction.
By Leah Trojan