The top bun has been making a statement in fashion for the past few months, but, last week's Golden Globe Awards suggest that the hairstyle isn't leaving us anytime soon!
Actresses such as Katherine Mcphee, Nina Dobrev, Emily Blunt and Louise Roe, were sporting this sexy, chic hairstyle paired with to die for gowns on the red carpet. Though each bun was slightly different, it all came from the same inspiration; to be on top!
The top bun looks great day or night and it's a lovely way to show off a fabulous pair of earrings! Also, it helps out when you don't feel like washing your hair, but you still want to look put together… Haven't we all had those days?
But, the real question is, how do you get this look without the help of a professional? Luckily we found, Toronto-based makeup and hair stylist, Eman to show us how to get the celebrity "top bun" look!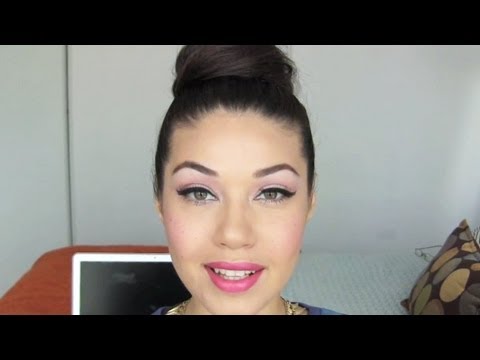 Let's break down the steps:
With a paddle brush, smooth hair up into a high ponytail on top of your head. Make sure that all of the hair is smooth and sleek. Secure with an elastic.
Using the same paddle brush, pull your ponytail straight up. While holding the ends of your hair, brush down so you are teasing the hair. This adds volume and fullness. Especially for those with thinner hair.
Once the ponytail has been teased, slowly and gently wrap it around the elastic. It doesn't have to be perfect, messy is okay.
When you have the desired bun shape, take bobby pins to pin the bun in place, starting from the back of your head.  Use as many as you think necessary to hold the bun.
To keep hair smooth and flat against your head, spray your brush with hairspray and lightly brush hair into place.
Now you are red carpet ready!