What animal is the biggest hoot in fashion? The owl. We have been seeing this wise and whimsical creature as the center piece for some of the year's biggest styles. It's no surprise that it turned up in jeweled designs on Burberry Prorsum's fall 2012 RTW collection. 
Who doesn't love an owl? They are majestic and adorable! They also generate a lot of respect… your friends might make fun of you for wearing a Hello Kitty t-shirt, but they will never giggle at your owl sweater. The owl has been appearing on necklaces, rings, clothing, dishes and mugs at Anthropologie. Both Jessica Alba and Kate Bosworth have even been spotted rocking the owl apparel. It's time to get on-board if you haven't yet!
Maybe you can't run out and buy the incredible Burberry 'Owl' sweater we all admired on the runway, but you can get to the craft store and make your own! Thanks to this episode of DIY Runway, you can easily follow along.
What you will need: A plain t-shirt or sweater, flatback beads, stones, heat bond fabric and fabric glue.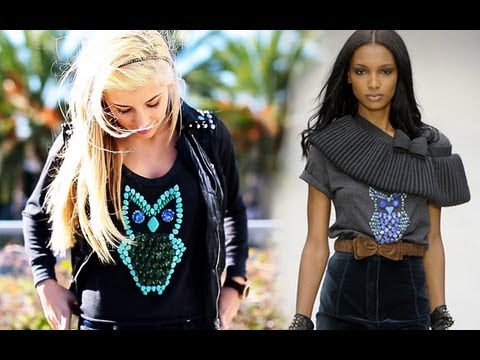 The Steps:
Arrange the stones and beads on the sweater to shape the Owl.
Using clear fabric glue, glue down the stones to the sweater in the design you laid out.  This should take about 20 minutes.
Let the glue dry for about 30 minutes.
Lastly, take the heat bond fabric, cut it in the shape of your owl and gently iron it to the back side of the design.
Your owl sweater is complete!
Everyone will be wondering, "Whoooo is that girl in the cool owl sweater?"