Have a hankering for heels? Get ready to reach for your plastic, Jimmy Choo has just released its upcoming Spring/Summer 2013 collection and it's as dazzling as the heels are high!
The infamous shoe label released a short, social media, video portraying various shoe and accessory styles for the upcoming season. Using  a glamorous couple on a daily outing for the backstory, the video portrays the sheer luxury and sophistication of the brand. Sleek neutrals, bright pops of colour and oversized statements seem to be a major entity of this season's catalogue. The sky-high sandals in mesmerizing purple shades, the oversized leather briefcases in refined neutrals and the over-the-top svelte sunglasses 'ping' against the city backdrop.
What's ingenious about the video is the simplicity and the reliability. Jimmy Choo has provided fans with a glimpse of glamorous styles within the real world. Gone are the runways and unrelatable fashion pieces. Here, the designer showcases his pieces in the 'everyday', prompting viewers and fans to envision his style within their normal everyday lives. Showcasing the models shopping, browsing and traveling within the city while adorning Jimmy Choo pieces, it presents high-fashion accessories in the everyday.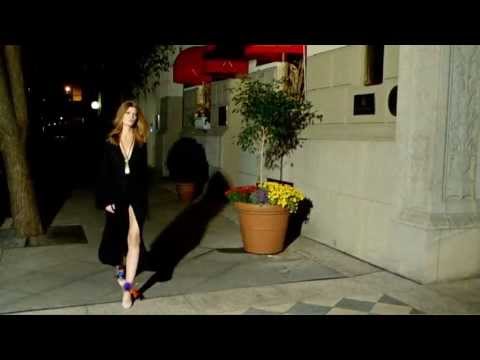 Via Luxury Daily