Looking to create a holiday glow for the season's festivities? Check out this week's Trending Tutorial for a berry merry look!
This gorgeous look has everything you could want for holiday makeup – deep, rich berry lips, a golden glow and shimmery lids. Up and coming beauty and fashion vlogger Amanda E. (of TheBeautyBox1211) shows us how to get ready for the holidays in this week's tutorial. Having just joined the ranks of YouTube beauty vloggers in February, Amanda has already garnered over 133,000 video views and over 3,200 subscribers. Her classic looks are growing her online fan base!
If you've got a holiday soiree to get ready for, glam up this season with Amanda's video below!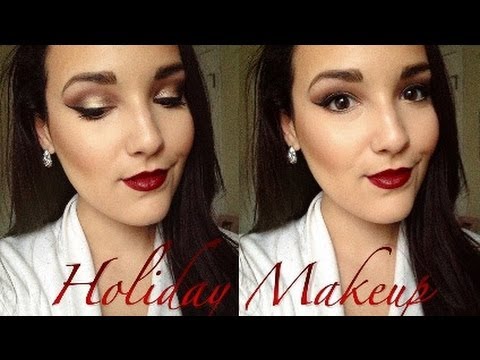 Use a primer on your face, then apply a liquid foundation with a flat top brush for a matte base.
Apply a champagne-hued cream eyeshawdow to your lids as an eye primer.
Layer with a white gold shadow, applying  on your lid.
Now using a brush, apply a light brown shawdow as your transition colour, sweeping onto your crease.
With a thinner brush, apply a rose gold shade to the inner and outer crease line of your eye.
Layering overtop of the rose gold, apply a darker brown/gold flecked colour to increase the warm impact of these tones.
For depth, add a black shawdow just below the crease on the inner and outer corners.
With a clean blending brush, blend towards teh inner corner of the eye, as well as any harsh edges of color.
Once blended, with your finger apply a dash more of the white gold shadow.
Use a matte beige shadow to highlight your browbone.
Using a black gel liner, line your top lash, finishing with a winged out tip.
To make your eyes appear larger, line under your eye with a nude colored liner.
Appy black mascara or false lashes, whatever your preference.
To finish your face, use concealer as neccesary and set with a powdered foundation.
Contour your cheeck bones with your favorite bronzer.
Top with a light pink blush and a gold hued highlighter, for a gorgeous natural looking glow.
For your lips, line with a berry liner for added definition, then fill in your lips with this liner.
Use a matte berry lipstick over top.
Apply a light coat of a brighter red to add a cherry hue to the look.
[Images via TheBeautyBox1211]