Hailed as the most prestigious art show in North America, Miami rolled up its sleeves and got artistic for this year's Art Basel. The show commenced on December 6, 2012; here are some highlights!    
Featuring some of the world's greatest art dealers, including work from over two hundred galleries worldwide and two thousand individual artists. Miami Art Basel showcases exceptional, one of a kind pieces, that incorporate contemporary design and cutting-edge developments. On top of some amazing talent, celebrities are known to roam the aisles of magnificent art, with P. Diddy, Kayne West, Demi Moore and Will Ferrell all in attendance.
Since we all couldn't jet-set down to Miami for the week, social media has provided the perfect way to keep up to date with Miami Art Basel events through our favourite designers, artists and celebrities. Check out the picks for the best social avenues to stalk for Miami Art Basel information!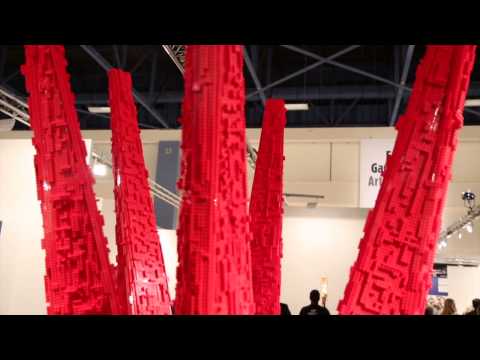 ARTINFO's YouTube channel provides us with the perfect recap of the most intrinsic pieces displayed during Miami Art Basel. The video perfectly captures the Basel atmosphere, along with the one of a kind artistry and the unique artists behind them.
Instagram has become the perfect outlet for keeping up-to-date on Art Basel events and news. With multiple celebrities, magazines, reporters, artists and fashionistas instagramming, there's an avenue for every personality out there.
Miami Magazine (@miamimagazine) is perfect for viewing photos of all the VIP events held during the Miami Art Basel week. Celebrity watch or admire at how the rich and famous celebrate, through the outrageous parties that Art Basel has become known for.
Fashion and art collide through Lotus Leaf's (@lotusleafstyle) instagram page. Look at some of the pieces through the fashion eye of Jules, Lotus Leaf PR firm director.

Event photographers Billy Farrell agency (@bfa_nyc) help you track down all the celebrity faces. Did you see any of your favourite celebrities there?
Fashion enthusiasts will want to hunt down Tim Derstein's (@timderstein) instagram to check out some of his stylish outfits. He documented his outfits for everyday of the Art of Basel event.
For Twitter, search the hashtags #ArtBasel, #ArtBaselMiami, and #OverheardatBasel for some of the best status updates regarding the event.
Get creative and start searching! Social media provides us with the easiest way to search and browse Miami Art Basel through the comfort of our own homes.
Via The Vivant