U.K. jewellery designer and fashion blogger Kate Murnane shows us how to create a ravishing retro-glam look à la Lana Del Rey. A fixation of the fashion industry, the leggy songstress creates a distinctive look and style with everything she does – from her music videos, album covers or as the face of H&M's fall campaign. Lana's "of another era" ethereal vibe fits perfectly with YouTuber Kate Murnane's own style.
Kate Murnane is one multi-talented entrepreneur. Not only is she a jewellery designer, Kate is the founder of the online boutique Dolly Bow Bow. She's curated a collection of darling pieces from clothing, jewellery, accessories and more. One could spend hours devouring her gorgeous vintage-inspired looks on the  Dolly Bow Bow blog!
Kate's first beauty-based video is this week's pick for #Trending Tutorial. On her channel, which has garnered over 108,000 subscribers and 7.3 million views, Kate breaks down Lana's look. Check it out below: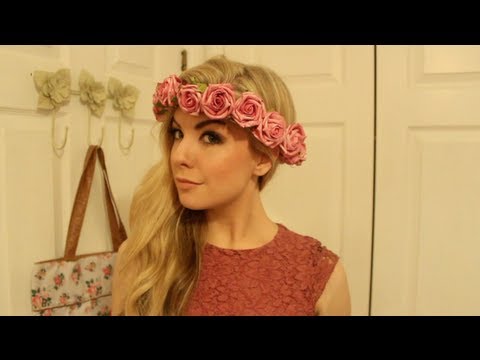 Prep by applying foundation & conceal any dark circles or redness
Matte the look with a pressed power
Use a peachy-pink blush color and apply to your cheeks (a bit lower than you would normally apply)
Apply a dash of bronzer on either side of your nose and both side of your temples
Use an iridescent shimmer and dot on the top of your cheek bones and the tip of your nose with your fingertips
Use a round eye shadow brush to apply a black eye shadow to your eyelids, keeping the color below the crease
With a light brown shade, blend the color on the outer corner of your eyes
Use a generous amount of black mascara on your top and bottom lashes – if you need that extra umph, uses an eye lash curler or false lashes
Highlight the inner corner of your eyes with a shimmer pale shadow
Shape and darken your brows
Line and fill in your lips with a pale pink lip pencil
While this makeup can be worn anywhere, to fully get the dramatic look that inspired this tutorial, add a floral headband!
[Images via Dolly Bow Bow]