Add a little glitz to your everyday look. This DIY headband has just the perfect amount of sparkle and is a must-wear for the holiday party circuit! This week's Trending Tutorial takes a look at BellaSugarTV, the beauty arm of the PopSugar TV channel. Our beauty expert and host Kirbie Johnson takes us through beauty and fashion tutorials, outfit ideas for any occasion, giveaways and more. These gorgeously made videos have garnered over 25,000 subscribers and 5.6 million views. When looking for the latest celebrity looks in fashion and beauty, BellaSugarTV is where you'll find them!
For this tutorial, Kirbie was inspired by Channel's Fall 2012 runway look of sequins and embellishments on Miranda's Kerr's eyebrows. Now that's a look that may not fly off of the runway! Kirbie loved that shiny statement and came up with way to make the sparkle more wearable – as a DIY headband. Headbands are still a hot trend and this easy DIY tutorial provides inspiration to create your own embellished one, with whatever colors and pieces strike your fancy!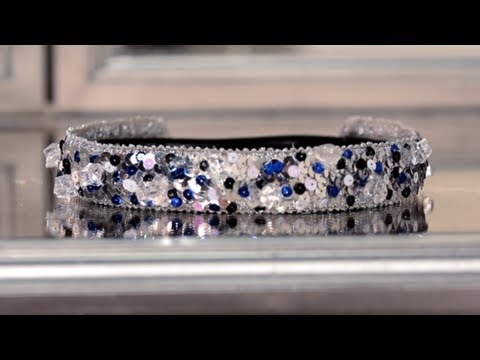 Steps:
Decide on your design – choose what color scheme/pattern you want for your headband, as well as what materials you will be using such as sequins and crystals.
Hot glue the ribbon to the headband, covering about 3/4 of the headband, which leaves the bottom portion black.
Once the ribbon has dried to the headband, using tweezers and the E6000 clear glue, attach your sequins to the ribbon.
Going back to the hot glue gun, the loose crystals and other embellishments on top of your sequined- covered ribbon.
Final touches – if you have any loose ends, ensure they are secure by gluing down with the hot glue gun. When all of your sparkles have been added, let your headband dry for ten minutes!
[Images via BellaSugar]