Get your creative juices flowing with this easy DIY accessories tutorial. Melissa Uy is a little lady with a lot of style. This petite 23-year-old fashionista is cultivating her YouTube presence with her video look books, outfit of the day features and beauty and fashion tutorials. She combines her love of styling and film on her YouTube channel Bohemianragz22, with a growing audience of over 330,000 viewers.
This week we showcase Melissa's crafty side with  a DIY headwrap, pinup style. Test out your sewing skills with this simple tutorial that's an inexpensive way to get creative with your accessories. Be inspired with  your own original design from her video below!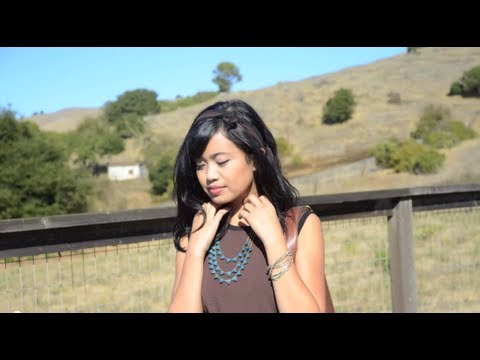 You will need:
Steps:
First, measure the width of your head with a string or measuring tape around the area you with be wearing the headwrap. Add three to five inches extra to be able to tie a bow.
Divide your total measurement into two (ie. fifteen divided by two = seven and a half).
Transfer your head measurement onto paper.
Customize the shape of your bow and draw a straight line to connect.
Pin your pattern design onto the fabric. Depending on your design you will have either 2 or 4 pieces.
After cutting out your design, unpin the fabric.
Sew the fabric's edges either by hand or with a sewing machine, but leave one end unsown.
After sewing, bring the inside out so that the raw side of the fabric is inside.
Sew the remaining opening and pin your lace design on the fabric before you sew on your trim.