Feeling crafty and creative? Design your own clutch that looks from straight from the runway!
This week's #Trending Tutorial is a daring DIY. We check out 23-year-old Evelina Barry's pop art-inspired clutch. The budding fashion designer/editor shows off her design talent and eye for trends on her YouTube channel Evelinicutza. Over 15 million viewers and 167,000 subscribers have fallen in love with her positive attitude and creative spirit.
Taking looks loved by her followers, Evelina came up with this funky clutch idea based on runway looks from Balenciaga and Philip Lim. This DIY will have everyone asking what designer your carrying – and you can tell them it's all you! Check out this crafty couture tutorial below: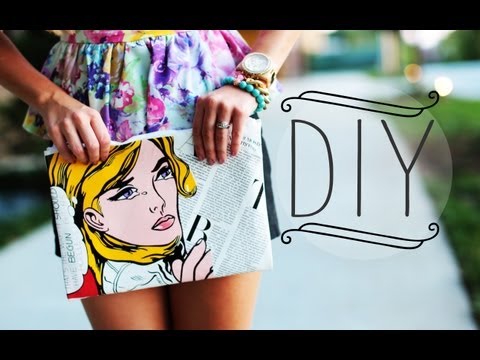 You Will Need:
Piece of vinyl craft/fabric store (most of these items can be found at craft/fabric stores)
Lining (optional)
Sharp scissors
Mod Podge glass lustre
Zipper (She uses a 12 inch zipper for this example)
Designs (Evelina uses images from her fave magazines  – you can find her templates on her blog!
Iron-on transfer paper (use the exact type she has in the video – made for dark clothes!)
Steps:
Cut your vinyl for the shape of the clutch – Evelina suggests leaving about an in more than the size of your zipper.
If using a liner, cut the fabric so it is about an inch smaller than the vinyl on all sides and glue to the center of the clutch.
To begin sewing, apply pins to the lining to keep in place when sewing the clutch. Evelina suggests drawing a guide line if hand sewing.  Fold the vinyl in half, with the lining side facing outwards and stitch the right and left sides of your clutch. When finished sewing, remove your pins.
If needed, neatly trim the top edge of your clutch and turn inside out.
To flatten the clutch, run an iron on very low heat on the two side edges. Then, place a book and weight on top of the clutch for a few minutes.
Once flattened, sew on your zipper attachment to the top of your clutch.
For the design, has provided templates on her blog, or you can use your own images to apply to the iron-on transfer paper. Once you have cut and decided on a placement for your designs, peel and apply the transfer (doing one at a time) to the clutch. Place a cotton shirt or cloth over top and iron on a medium setting pressing firmly a couple of times.
When your design has been ironed on, apply a thin layer of Mod Podge over top to seal!
[Image via Evelina Barry]