Rihanna brought the umbrella infamy in her song, Umbrella and Gene Kelly made Singing In The Rain look a lot more fun than walking in the rain. But this new development in rain gear, the GRIP2 Umbrella, will save us from the windswept looks of umbrellas past.
While the basic umbrella shape keeps us all high and dry, it becomes a little complicated once there's wind in the picture. We quickly go from rain gear chic to awkward fumbling of our umbrellas as we battle against the wind and rain. But the GRIP2 Umbrella is here to save us from that hard fought battle against Mother Nature.
What is great about the GRIP2 Umbrella is that its general design is much like any other umbrella, same basic shape, same basic purpose; but what separates it from other umbrellas is its adjustable second grip. The adjustable second grip is placed just above the main handle. The inventor, Dan O'Donnell states that the ergonomic design of the grip will reduce the amount of strain (about 70 per cent) placed on the hand during high winds.
The adjustable grip has a lock/lever release that allows it to be placed anywhere along the shaft. This allows for a more comfortable grip for everyone. O'Donnell claims that the handle allows for a "powerful grip," which reduces hand strain and puts more force on holding the umbrella comfortably against high winds.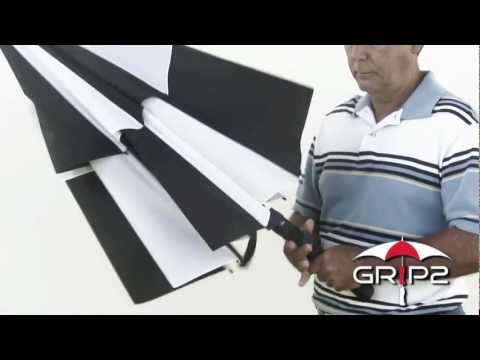 The GRIP2 isn't available on its own to attach to umbrellas. But, it is sold as a package containing an umbrella with a diameter of 54 inches (137cm) and the GRIP2. It is available in black, navy, black/white, and navy/white. Finally, an umbrella that saves us from that unwanted rain and windswept look, which makes us want to sing in the rain.
Via Gizmag