Get Demi Lovato's X factor with tips from makeup artist Eman. In this week's #Trending Tutorial, Eman lays out how to achieve the bright and bold look that Demi Lovato has been rocking during her judging duties on the hit show The X Factor. Using Eman's tips, you too can create a glam look, perfect for a night out with the girls.
Toronto-based beauty professional Eman says she began her YouTube channel Makeup By Eman "to help everyday makeup lovers learn how to create beautiful makeup looks," and she sure has with over 158,000 subscribers and 22,850,000 video views on her channel.  Eman and her work have been featured in print, online and on tv, including  Fashionista, The Style Spy, CTV, Much Music and New York magazine.
Also an entrepreneur, Eman has developed Mint Brushes, her own line of makeup brushes. This beauty expert knows how important having the right tools is to creating your desired look. Check out how to create the star-studded look Demi's been rocking each week on The X Factor below!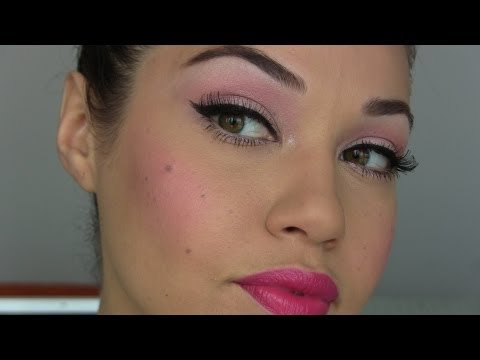 Eyes
Use a nude eye primer on your lids to make the shadow last!
Apply an off-white/pinkish shadow up to crease lid with a flat brush.
Use this color to highlight brow bone.
Take a medium pink shadow and use a fluffy brush on crease area.
Apply a shimmery pink all over  lid and a vanilla shade to highlight the brow bone again.
For the inner corner of the eyes, carefully apply a pale pink shimmery power with a small brush.
Dab that same powder on lightly on lids with your finger.
Using a black liquid liner,  build the thickness of the line as you move along your eye line.
Follow shape of you eye and drag out to create the winged look.
Curl eye lashes before adding black mascara to top and bottom lashes.
Skin
Apply liquid foundation with a brush from the center of your face out, where ever coverage is needed.
Use concealer for any blemishes – also make your lids stand out by adding concealer under the eye
Set look with powder,
Brows
Brush brows and add brow gel to define your look.
Cheeks
Apply a fushia pink blush – don't put too much on your brush as the color is quite bright.
Lips
Use a fushia pink lipstick for the final part of Demi's look.
Use an angle brush with a tiny bit of conccealer to define the edges of the lip.
[Image via Makeup By Eman]