Looking for a new way to wear your old favorites?  "Upcycle" a new outfit out of a shirt or dress you already own with the help of vintage fashion boutique and DIYers Boat People Boutique.
The ladies of Boat People Boutique have curated a haven of quality pre-loved pieces. Not only do Ariane Ski and Mélanie Jacques sell their amazing vintage finds online and in their stores Boat People Boutique and The Sample Boutique, they also teach eco-conscious and crafty fashionistas how to create new looks out of vintage clothing through their DIY blog and tutorials.
In addition to being style savvy, these two are social media mavens, spreading inspiration and tips for creating chic and easy DIY projects, which have garnered over 1,226,000 video views on their YouTube channel BoatPeopleVintage.
For this week's #Trending Tutorial, we follow a few easy steps from Ariane to add a sexy twist to any old tight-fitting dress or shirt in only two minutes. Check it out below!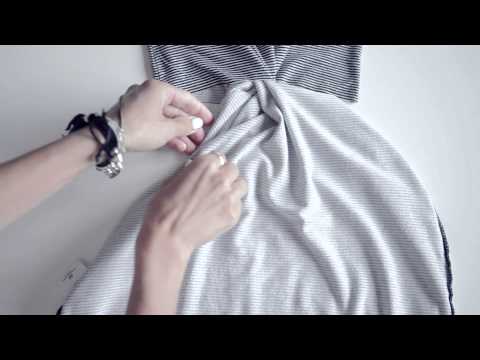 To transform your outfit by adding peek-a-boo slits, follow along with Ari!
With scissors, cut a straight line about a third of the way through the mid-section of the dress, repeating on the opposite side.
On each side, cut a line diagonally to your first cut, creating a triangle shaped cut-out.
Place one arm through the bottom left slit, while your other arm grabs the bottom right corner. Flip the bottom half of the dress inside out.
Turn the bottom half inside out one more time.