It's a busy time of year – whether you're heading back to school, hitting up Fashion's Night Out or taking in the films and frenzy of TIFF, who couldn't use a new 'do for these events? Check out three new looks from YouTuber That's Heart in this week's #Trending Tutorial.
Get inspired for trying fresh new looks this fall with three easy and trendy looks from the sweet and talented Heart of That's Heart. Each week Heart brings her creative style advice to her over 251,270 subscribers. From hairstyles, beauty tips, shopping hauls, fashion and accessories, it's no wonder her channel has seen over 22,488,220 views! You can check out more from this stylish lady for inspiration on her many other social channels such as her blog, Facebook, Twitter and Instagram.
To get glam, all you'll need is bobby pins, elastics, a hair straightener and hairspray. Check out these three quick and easy hairstyles that will be sure to turn heads in the halls or on the town.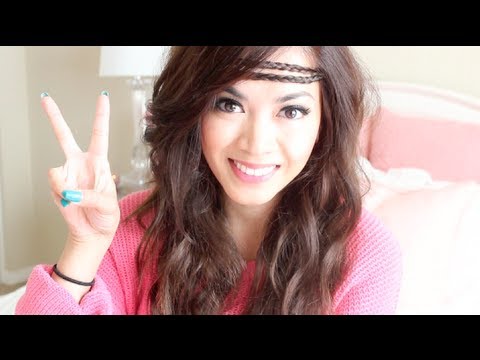 First up – create your own braided headband with a look she calls the Braided Twist. Apply a heat protecting spray to prevent any damage. For added umph, create some waves by wrapping your hair around a flat iron. Section off and pin back the crown area of your hair. Braid a small section on one side of your head, wrap around your forehead to the other side, and pin in place with bobby pins and hair spray. If your feeling daring, repeat the steps on the opposite side to create a funky double braided twist.
Heart's second look is a Fishtail Braid. Gather your hair to one side and divide hair into two sections. When braiding, alternate between grabbing a back piece of hair and moving it to the opposite side. It might seem tricky, but it's easy once you get the hang of it! To secure this look, tie with an elastic and fasten loose back hairs with bobby pins.
Heart's final look is her biggest,boldest and her personal favorite- she call's it the Big Bun. First, add texture by spraying your hair with hairspray. Grab all of your locks and tie up on the top of your head. Take a small section out and wrap around the base of the bun and fasten in place with bobby pins. Pull down a few wisps of hair to frame your face and complete the look.
All these  looks take under ten minutes to do, perfect for rushing out the door to class or an after work event – try one out today!