One of FASHIONOTES favorite digital darlings, fashion and beauty expert Michelle Phan uses her creative charms to bring us five looks for day and night that can be made with a few twists and ties of one simple scarf! One of the best fall fashion statements is the scarf. We love layering as the seasons transition, and scarves are the perfect way to keep warm and change up a look. There are endless options for getting cozy and creative with our scarves – more than just around your neck, scarves can be an outfit unto themselves!
If you're a regular reader of our site, or a fan of online beauty and fashion tutorials, there's no doubt you're familiar with the face and talent of Michelle Phan. Social media has taken Michelle Phan from YouTube phenom to the forefront of the beauty industry, having signed on to be Lancôme's first video make-up artist. Her internet fan following just continues to blossom, with over 2.2 million subscribers and over 641 million views on the YouTube channel that started her style empire. Mainstream and online media such as Forbes, Seventeen and Buzzfeed.com are also well aware of the Michelle Phan effect!
A veteran of the internet style sphere at only 25, Michelle is a seasoned pro at giving tips for new and fresh looks. In this week's #Trending Tutorial, we learn some simple tricks for turning one lovely large rectangle scarf into 5 unique and cute ensemble additions.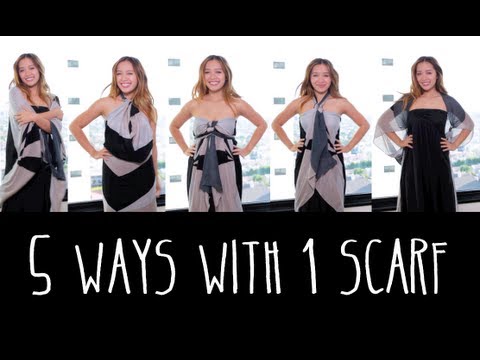 Look 1 – The Angel Sweater
Tie the two corners on each side of the scarf together to create sleeves – and instantly you've got a chic cover up.
Look 2  – The Sweetheart
Hold the scarf behind you while tying the top two corners together in a knot, pulling towards yourself.
Continue to tie two additional knots.
Secure the dress by wrapping these ends behind your waist to create a cute strapless dress.
Look 3 – The Resort
A variation on the previous dress, begin this look by repeating steps 1 & 2.
Instead of tying the ends around your back, take them around your neck and fasten with a knot, making this dress a halter.
Look 4 – The Caped Crusader
Tie the middle and one corner end of your scarf together.
Repeating for the other side, tying the other corner to a middle point of your scarf to create a second sleeve – there's your simple cape-like cover up!
Look 5 – The Boho
Make a knot with one end of the scarf, then make another knot on the opposite end.
Tie these ends together around your neck for the beginnings of a halter dress.
Twist the front of the scarf around once.
Wrap the scarf around your waist, securing in place to complete the boho-style number.
[Image via Michelle Phan Official]