Arguably the world's most glamourous soccer mom, Victoria Beckham is also proving to be a talented magazine editor and social media butterfly.She's come  a long way since her Spice Girl days. Mrs. Beckham is now the head of her own fashion empire, a mother of four, and happily married to David Beckham for the past 13 years. We're starting to wonder if there is anything this girl can't do?
VictoriaBeckham
Despite the fact that the critics were hesitant at first as to whether this pop star turned fashion designer would be able to make it in the fashion industry, Victoria Beckham has full out proved them wrong. Her collection debuted in 2008, and in 2011 she took home the Designer Brand of the Year Award at The British Fashion Awards – beating out Tom Ford and Stella McCartney. Oh, and she's made Anna Wintour a fan, clearly Victoria Beckham has found her calling.
Her collections have been show stopping and exude the personal style of Victoria herself. And her online site is no different. The sleek design features snapshots of each piece as seen on the runway. And we love that the site's incorporated videos from her latest showing at New York Fashion Week!
Twitter & Instagram
Yes, you read that right, Victoria is now on Instagram and we could not have been more excited when we got the news! We can't wait to see the world through Victoria Beckham's eyes – and, well, an Instagram filter.
But clearly we weren't the only ones excited by this. In just a mere three weeks, she has managed to rack up 42,000 followers – a number that is bound to increase if her Twitter following is any indication.

The behind-the-scenes updates cover photo shoots, designing, and down time with her family. Victoria Beckham's Twitter has always been entertaining. With over 4 million followers, we think it's safe to say that this former Spice Girl has mastered the art of social media.
What we really love about her tweets is that you get the chance to see that 'posh' isn't very posh at all and actually has a great sense of humor. So, since we having nothing but positive things to say, we've collected some of our favourite 'x vb' tweets to share with you!
Glamour Takeover

And it doesn't end there! For their September issue, Glamour magazine released their first full-on Fashion Issue with Victoria Beckham taking over as Editor-In-Chief! Victoria had the chance to call the shots when it came to almost all the major features of the issue and her personal touches and influence were spread throughout the magazine. Check out the video below for commentary from Victoria herself!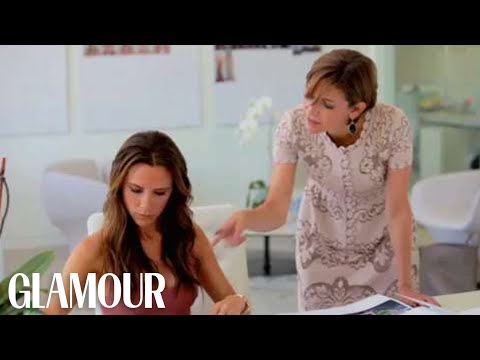 —————————————————————
Have a suggestion for who we should feature in our upcoming Digital Celeb Profiles? Leave us a comment below!