Loving the look of ombre nails, but not sure how to pull it off? This week's #Trending Tutorial breaks down the dramatic look in a few easy steps.
The fun and funky trend of ombre nails has had beauty junkies buzzing this summer. Adding pops of color to your nails is an easy and low-commitment way to take on the ombre trend - you don't have to be Picasso to create these works of nail art! This week, YouTube's resident beauty queen, Nikkie of NikkieTutorials, gives us a paint-by-numbers guide to the ombre nail trend.
Her creative and bold looks take makeup tutorials to another level. High on drama and glamour, many of her videos are themed and inspired by popular icons of movies and television, such as the epic stylings of the Capital a la the Hunger Games, or the retro pout of Lana Del Ray.
After being inspired by Lauren Conrad and the stylish ladies of MTV's The Hills, Nikkie hit the web to find out how to recreate their looks for herself. After stumbling upon the world of beauty vlogging, Nikkie began teaching herself makeup tips and creating videos at only 14-years-old. Now, at 18, this teen from the Netherlands has a massive and dedicated following on all forms of social media, with 31,104,682 views and 196,694 subscribers on her YouTube channel alone.
Nikkie's not only making waves at home, her videos are devoured by beauty junkies around the world – she's even been profiled by Teen Vogue! Check out the video below to watch Nikkie show us how to create an irresistible combination of neon colors, mixing yellow, pink and purple to look like a gorgeous summer sunset. This look is a great way to capitalize on the bright looks of summer before fall finds its way in.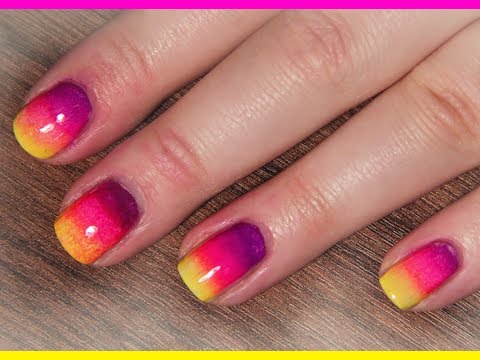 To flawlessly get this look, it's important to start off with a solid base. First, apply a clear base coat, then add two coats of a nude-beige polish as a base color to help the neon colors pop even more. To prep for creating the ombre gradient pattern, wet a small sponge (a makeup application sponge works great!) with water, drying off any excess product.
Once you've chosen your colors, paint a strip of each on the sponge, around the size of your nail. Then you simply dab the sponge on your nail to create the pattern. The more you dab, the more opaque the colors will be. Clean up excess color on your finger tips with a Q-Tip and polish remover. Finally, set the look with a fast dry clear top coat. Voila –  fancy, fabulous nails!
Loving this look? Tweet us your own ombre creations @FASHIONOTES!