With wedding season in full swing, use these tips to get the most wear out of your formal dresses. Special events call for a special outfit, and both time and money is spent on putting together a memorable look to fit the occassion. After spending all your dough getting dolled up for the bash, we often find ourselves wondering where else to show off our one-night-only ensembles.
In this week's tutorial pick, fashion stylist and YouTube powerhouse, Chriselle Lim showcases how to get the most out of any fancy dress. As a professional wardrobe stylist, Chriselle has the expertise on how to dress to impress – not to mention being able to size up an outfit's versitility.
Since 2011 she has grown her internet presence immensely, spilling her stylish secrets and showing off her daily looks. She first made waves by teaming up with FASHIONOTES fave, Michelle Phan in 2011, before moving to her own YouTube channel. With over 12, 480,000 video views, Chriselle is one of the most influential fashion vloggers out there.
While this week's pick uses a prom dress as an example of creating multiple looks, her tips can work for any outfit – but especially those dresses needed for endless summer nuptials.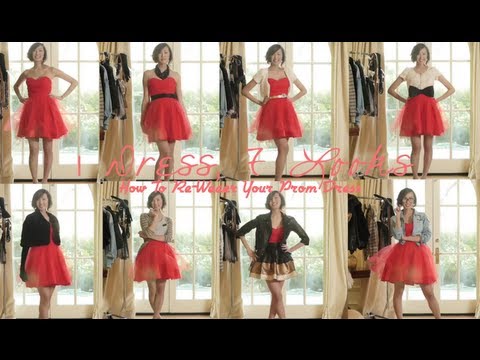 Chriselle adds bold statement pieces such a bow belt and chunky necklace to add dramatic flair to the look, transforming the dress with personality. To make the dress casual, she adds a t-shirt and a cardigan, revealing just the skirt of the dress. In reverse, she doubles-up on leather with a layered look, matching skirt and jacket. These pieces give the illusion that she's wearing a bustier, creating an edgy but glamorous look.
Chriselle takes this dress from formal to fun, offering up inspiration to use what's already in our closet to create great new looks. As Chriselle says, when you find a dress you love, you want to wear it over and over again!