Selfridges rooftop miniature golf course from the 1930s has returned as one of the best spots to grab a bite and bunt in London this summer. Since Fashionotes last reported on Selfridges playing host to an exhibition of digital installations from some of the top designers featured in the newly opened Womens Designer Galleries, they continue to reinvent the shopping experience for their clients using technology in innovative ways. Changing rooms in the Galleries feature three-screen mirrors with built-in cameras which shoppers can email to get feedback from their friends. The changing rooms also feature murals of digital art by British multimedia designer, Daniel Brown.
We took a quick look into the impressive changing rooms (when the coast was clear) this weekend before heading up to Tinie Tempah's party on Selfridge's recently opened terrace to celebrate London Collections: Men, his naming as GQ's Best Dressed Man, and his newly launched collection sold exclusively at Selfridges, Disturbing London.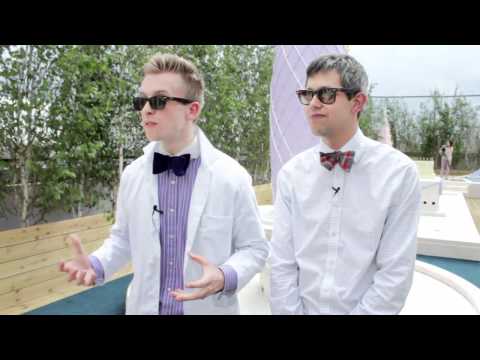 And while we're talking about the two-time winning World's Best Department Store, Selfridges has recently launched the Big Rooftop Tea and Golf Party. We spoke to our party hosts, the PR team over at Gabrielle Shaw Communications, who are touting it as the summer's coolest place to eat and play. We snuck a peek during the party and we can see why: nine holes of mini golf, each themed on a major London landmark designed amongst giant cakes made of jelly. Sounds crazy? They don't call it crazy golf for no reason! And we're looking forward to finishing off our game with high tea at Daylesford Cafe. Sure, we may have to enjoy it covered in a canopy to protect us from the London rain, but it will be worth it to sit far above the busy foot traffic of Oxford Street. We're excited to get to experience this – if we can get in. We hear they are booked solid through June.
[NotCot]