When Millard 'Mickey' Drexler took over as CEO for J.Crew in 2003, no one was prepared for the climactic change that he would take J.Crew from preppy-casual to Fashion Week limelight.  
In 2002, Drexler was fired from the Gap label, but soon enough, J.Crew snatched him up and Drexler did to J.Crew what he accomplished at the Gap; to embrace the brand, bring awareness and buzz and turn it into the brand it deserves to be.
First lady, Michelle Obama has become the face for retail royalty and raised awareness to the J.Crew brand as well as she sported looks amongst credible politicians along with her husband, the President of the United States. Jenna Lyons, Creative Director for J.Crew has been credited greatly due to J.Crew's success as she herself has also become a followed fashion guru. What once began as a brand that targeted a more simple individual, J.Crew has grown to be an incredibly successful brand with styles that fit a wide age range and wear that is suitable for multiple occasions.
What sets Drexler apart from other CEO's of retail brands, is that he is in every way a part of the brand inside and out. He micro-manages J.Crew and with his trained eye in retail, he is truly the "King of Retail".
"You can walk the floor with Mickey Drexler and he knows every piece of clothing," an immaculately bobbed Wintour tells CNBC anchor David Faber. "You see lots of CEOs who are brilliant at what they do, but they're removed, and there's nothing removed about Mickey."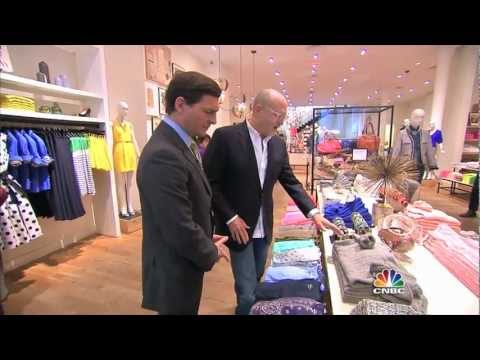 The "King of Retail" shows us in the video that he knows what will sell and how they will sell it. Unlike other CEO's of major labels, Drexler is hands on with his decisions and he is aware of all that goes on in J.Crew, whether it be popping into stores and studying the stores service and presentation to personally choosing colours that will be a part of a new season's collection.
When Drexler was fired from Gap but now reigns as the CEO of J.Crew, it is as the saying goes, everything happens for a reason.