Let's face it. We all love wearing a great pair of heels. Why shouldn't we? They're indisputably sexy, make your legs look slim and toned and boost your height and confidence. They are the finishing touches to a styled up outfit and are constantly paraded by glamorous supermodels and celebrities. The downfall of such high fashion is the permanent physical problems that quickly arise by strapping into stilettos on a regular basis. With a general perception of 'no pain no gain' and wardrobes full of multi-colored pumps, are women putting cosmetic looks above their health?
Manolo Blahnik, Jimmy Choo and Christian Louboutin are men who have instigated love affairs with women across the globe. The average North American woman owns at least 30 pairs of shoes and wears high heels multiple times a week. However, the most beautiful shoes are usually not the ones that are best for our feet. Studies say that most women will cram into shoes that are too small because they look better, or the preferred size is out of stock. A whopping 80% of western women admit high heels make their feet hurt, but they tolerate the discomfort in order to look more stylish, taller and more professional.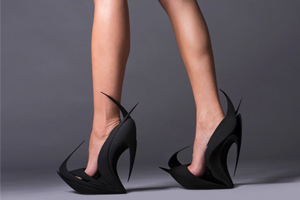 So just how far are women willing to go for the perfect pair of shoes? According to statistics compiled by the Society of Chiropractors & Podiatrists, four times as many women experience foot problems compared to men, with women undergoing 90 percent of foot surgeries carried out in the United States. A 'high' heel, defined as anything over 8.5cm, is a fashion statement which worried podiatrists say is "biomechanically and orthopedically unsound". When the foot is forced into a narrow and angled position, it causes stress on the joints of the foot and compounds the problem. The higher and more unstable the heel, the more quickly these issues arise.
One of the reasons footwear can cause such discomfort is said to be because shoe manufacturers don't understand the female foot. Women have a completely different foot design than men. Not only are they smaller, but they have thicker ankles and calves, higher arches and narrower heels. Many shoemakers do not take these differences into consideration when creating all those gorgeous pairs of feminine footwear.
This obsession with heels, and disregard for personal comfort, is shared by influential pop-culture role models including Victoria Beckham, Naomi Campbell and Sarah Jessica Parker. The shoe addiction of Sex and the City's Carrie Bradshaw is a common vice, but the types of sky-high heels she wears day-to-day chasing down cabs in New York City are the very ones responsible for the majority of foot problems, including bunions, joint damage and deformities.
Victoria Beckham's widely publicized bunion problem was said to be caused by her constant need to wear heels while the spectacular, and often cringe-worthy, tumbles on runways across the world are also the result of over-sized and showy heels. Even seasoned supermodel, Naomi Campbell had a widely publicized catwalk fall in 1994 while modeling for Vivienne Westwood.
Sarah Jessica Parker has endured her fair share of podiatry pain as well. She tore ankle tendons while running in stilettos and was rumored to have had her feet digitally enhanced while filming the blockbuster rom-com, Failure to Launch. Ironically, according to the Manolo-mad actress, all the injuries are worth it: "You have to learn how to wear his (Manolo Blahnik) shoes. It doesn't happen overnight…I've destroyed my feet completely, but I don't care. What do you really need your feet for anyway?"
The decision to put glamour before comfort is not a new phenomenon. Heels have been symbols of sex, status and style throughout history. The first record of the high heel dates back to the Ancient Egyptians, while France's King Louis XIV wore them to boost his shorter-than-average stature. In modern culture, shoes are capable of implying various connotations for the wearer depending on style, color, and above all, height.
Heels are damaging and painful, yet continue to be widely coveted worldwide. They are both commended for the elegance they lend to the wearer's appearance and cursed for the problems they inflict on ankles, calves, and backs. Despite being considered a modern fashion statement, their long history proves that this trend is nothing new. Styles and trends may vary, but their long-term prominence seems to ensure that wearing heels will remain the height of fashion.