One of the newest (and most affordable) innovations to come to the fashion industry is luxury designer rentals. FASHIONOTES takes a look at Bag Borrow or Steal, Rent frock Repeat and Rent The Runway. Each of these concepts allow women to rent a designer piece (dresses, handbags, jewelry, and other accessories) at an affordable price, delivered straight to the customer's doorstep!
Talk about convenience.
Bag Borrow or Steal (Avelle Inc.)
Remember in the Sex and the City movie, when Carrie's assistant Louise, played by Jennifer Hudson, is able to afford her "Louise Vuitton" on a minimum wage budget? Well this is what Bag Borrow or Steal is all about. This concept was created in 2004, offering handbags and accessories available for rent for a week, month, or however long (a steal). With a client base of 1.5 million women in the United States, BBS offers 4,000 styles of luxury handbags, jewelry, sunglasses, watches and luggage from more than 150 designers. Have you always dreamed about owning a Classic 2.55 Chanel Quilted Handbag? Well for $60 a week you can fool anyone into thinking you've received that long awaited bonus! Of course for more popular designers, some pieces may require to be placed on a wait list.
Though a membership is not required, those who do sign up, for $5 to $10 a month, will receive exclusive offerings, and the fee goes towards your next rental. If you're the type of girl who likes to see where your money is (in your closet) and can't give up your handbag or accessory, then BBS gives you the opportunity to "steal" the item. Requesting to "steal" the item means, that you would like to purchase it, and for almost all items, members can apply 50% or more of their rental fee towards the purchase. It's almost like layaway.
Bag Borrow or Steal offers handbags, jewelry, sunglasses & watches, by designers including Chanel, Marc Jacobs, Chloe, Fendi, Prada, and more!
Have you been searching for that perfect dress for an event, but just can't collect enough pennies to purchase that designer frock? Rent frock Repeat is the newest Canadian revolution to hit the fashion industry. Lisa Delorme and Kristy Wieber launched RfR May 23rd of this year, offering Canadian women the first opportunity to rent designer dresses online at an affordable price. Each rental offers the dress in two sizes, to guarantee the perfect fit, personal online styling options and a fit kit, to help your look be picture perfect. The kit includes tools such as double-sided tape, deodorant remover, and stain remover. One more thing to cross of your "to-do" list – dry cleaning, RfR takes care of it!
With over 100 dresses and 22 designers, RfR is constantly growing and will offer new pieces by month, appropriate for each season. Rentals start at just $50 ranging up to $525. Availability of each dress is organized by location, so customers are aware of which frocks are most easily accessible depending on your occasion's date. One of the highlights of the website is the option to view the "Stylist Notes" for each look. These notes offer three styling options for each dress, including classic, feminine, edgy, boho, sexy. Each option recommends everything from shoes, jewelry, hair, makeup and even undergarments! In the future customers will be able to visually see the styling option with pictures for each. Who knew you could have a personal stylist in your own home!
RfR offers frocks by designers including Badgley Mischka, David Dixon, Camilla & Marc, Ports 1962, Jay Godfrey, Christian Siriano, Pink Tartan, and more. We love that RfR is offering so many Canadian designs for its Canadian customers.
FASHIONOTES had the opportunity to attend the RfR launch party and to interview the lovely ladies who came up with this great concept for Canada.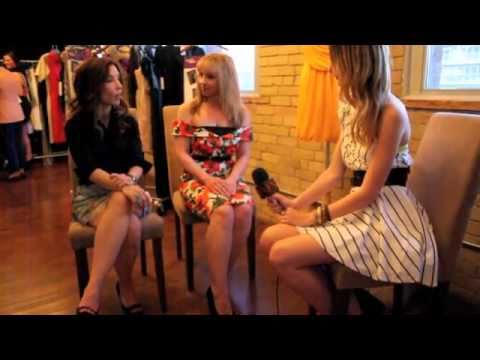 What if you could have your dream closet with a new dress for every occasion? This was the exact questioning of Rent the Runway founders Jennifer Hyman (Jenn) and Jennifer Fleiss (Jenny). The two Jennifers wanted to offer women in the US the opportunity to try out new designs at a more affordable price, and so this website was created. Rent the Runway offers designer dresses and accessories at 90% off the retail price. Dresses are available by size, location and availability date, rentals are shipped with a second size free and are available for a 4-8 day period. Upon free return, every dress is dry cleaned (using an eco-friendly system), in preparation for it's next wearer.
The website offers dress rentals starting at $50, organized by color, length, body type, style, neckline, sleeves or designer. Jewelry rentals start at $10, handbags at $25, and Rent the Runway even offers intimates for sale to suit every dress. For a personal touch stylists and fit specialists are available to help, with just a phone call away. This ensures you will always be perfectly styled in your designer dress! Now you will never have the excuse that you have nothing to wear!
Rent the Runway offers dresses and accessories by over 95 designers including, Alice & Olivia, Halston Heritage, Proenza Schouler, Rachel Roy, D&G, Vena Cava, and more!