The python trend has slithered to new heights this year, dominating spring trends straight through to the fall. Perhaps it has something to do with the missing Egyptian cobra that broke free from the Bronx Zoo in late March, or maybe we just couldn't get enough of the trend when it hit runways in 2009– whatever it is, sexy snakeskin is a definite 'IN,' straight down to our feet. And while we are loving the YSL Baobab Python Wedges we're referring to pedicurist Terri Silacci's most stylish pedicure– a textured, python pattern using actual snakeskin. This isn't your typical press printed decals or painted lacquer, this is the real deal.
The delicate, almost transparent snakeskin was kindly donated by a four-foot-long female python who shimmied out of it one day. Resorting to renewable resources Silacci meticulously hand-cuts textured pieces from naturally shedded skin to fit the shape and size of each nail. The pieces are then placed on nails, between a thick layer of instant-drying gel base color and a chip-resisting clear sealant. "Small snakes are usually my favorite. You get a lot more detail per square inch," states Silacci who is running a full-time python-pedi enterprise at the Euphoria Lounge and Spa in Monterey, California. Silacci remains well supplied with snakeskin thanks to her neighbor who runs a reptile shop in Salinas. She often experiments with gold and silver leaf, as well as peacock plumes and speckled guinea feathers, embellishing her snakeskin toes even more. Silacci uses products from Bio Sculpture, a company founded in South Africa 22 years ago and for which she serves as ambassador/high priestess of the pedicure. The Bio Sculpture Gel pedies run at $300 and manies take up to 6 hours! We say it's well worth it.
Check out this quick clip of Bobby Thomas from the Today Show, sporting her Bio Sculpture Snakeskin mani and pedi.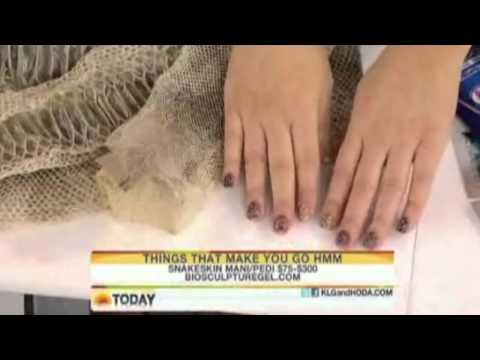 [Vogue]