Naomi Campbell's latest Fashion for Relief show took over the historic Forville Market at the 64th Annual Cannes Film Festival on Monday. In collaboration with Vogue Italia, the charity's current beneficiary is the post-earthquake and tsunami relief efforts in Japan, "I felt very passionate to try and help in whatever way possible, to do our part and to support Japan at this time. I hope that the money raised from Fashion For Relief in Cannes will support those who need it most" said Campbell who showed off her 40 year old bod in the show, opening with a stunning black number. The cast of models saw many supermodels, up-and-comers and Campbells' A-listing bffs including Rosario Dawson, Jane Fonda, Victoria Silvstedt, Karolina Kurkova, Grace Hightower DeNiro and Sesilee Lopez. Designers included Prada, Bottega Veneta, Lavin, Valentino, Prada and McQueen.
An auction was held after the show where items included artworks by Dennis Hopper, Richard Prince, Jeff Koons and Tracey Emin– and who could forget– David La Chapelle's famous photograph of a naked Naomi. A European lady spent a whopping 100,000 Euros on a Chopard necklace, while Kenneth Cole accidentally bought a painting of all 44 U.S. presidents after auctioneer Simon de Pury decided Cole was still bidding, even though he had apparently stopped. Cole still paid up and even donated an extra two thousand Euros to the benefit.
The most fun however was on the catwalk. Bringing back memories of Campbell's infamous stumble during a Vivienne Westwood show in 1993 and Agyness Deyn's few stumbles during the Fashion for Relief benefit for Haiti in New York last year (ironic, we know), Lindsey Wixson followed suit in last night's benefit. Poor Wixon, in a pair of sky-high shoes resembled Bambi's first steps as she fell at least six times in her two glamourous outfits (our favorite: the white Prada). Wixon however, handled her tumbles like a champ and the good-natured crowd saw past the shaky spills for what the benefit was truly about. (Although some I'm sure must have referenced Stanford in Sex and the City, when he watches Carrie upside down on the runway, yelling "Oh my God, she's fashion road-kill" as the next model approaches). The show included both models and non-models and in addition to Wixson's moments of glory, two models took spills while Campbell, Hightower and Fonda all tripped over Fonda's train during the finale.
Check out the Telegraph's vid of some runway carnage and close calls on fashion roadkill.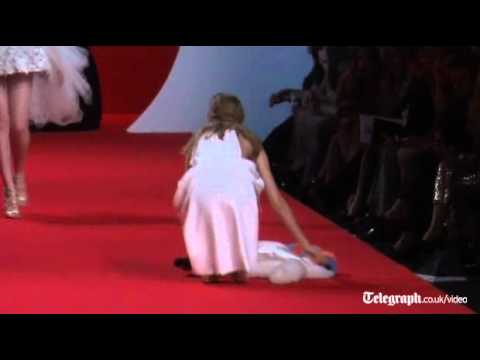 Campbell founded Fashion for Relief in 2005 with a show in aid of Hurricane Katrina victims. So far Fashion for Relief has raised £4.5 million. Here are our fave looks from Monday's event in Cannes. Our hearts are with you Japan!
[TheCut]