FASHIONOTES gives you our five favorite shows of all time of designers that rocked the fashion world and blew our expectations out of water.
Runway presentations are the artistic showcase of industry superstars. It gives those free-thinking, fashion masterminds an outlet for public expression and a chance for their creativity to overflow onto the catwalk. Through these enormous and elaborately-produced fashion shows, the audience is given that rare insight into the psyche of a world-class designer.
Dazzling lights, special effects and often outlandish props are used to present the ideas behind a collection. Over-styled hair and makeup are coupled with stunning pieces to inspire a sense of understanding for the line as a whole. To put on a successful and sophisticated performance, without taking anything away from the clothes, is an art in itself.
Modern fashion presentations seem to take on a life of their own. Shows now focus on an overall experience for the audience, rather than just a viewing of designs. To achieve this higher element of entertainment, design houses often call upon the magic of celebrity status. The annual Victoria's Secret shows have become a sort of festivity, with last year's event featuring performances by music megastars Akon and Katy Perry. Designer, Stella McCartney, has also made use of her celebrity connections, using her famous father's tunes and supermodel friends to her debut runway stylings. Other designers are more subtle and opt to invoke the imagination by focusing on a fantasy themes or futuristic technology.
With such large scale events, it is not surprising that these types of shows leave a lasting impression. Here, we give to you five beautiful and awe-inspiring shows of fashion design and beyond that made our jaws drop.
5. Paco Rabanne
Paco Rabanne is back on our radar after recently announcing the label's comeback after five years away from the fashion industry. Known for his mythical dresses, psychedelic colours and linked-mirror theme, this Spanish designer made a name for himself with his metal women's wear creations. His extensive work with metal discs prompted Coco Chanel to call him a 'metal worker'. His 1997 show is one of our all time favorites. The use of parasols and reflective materials gave this show an ethereal feel while his trademark mirrored garments display a kickback to a previous era.
4. Mao Geping
This show was for every girl who has ever dreamed of being a princess. Mao Geping's fantasy inspired S/S 2010 creations, shown at Beijing Fashion Week, featured full avant-garde ball gowns, adorned with feathers, ruching and topped off with tiaras. A make-up artist by trade, Geping's work on these models was art unto itself, with exquisite coverage to match the dresses. The detail-oriented clothing designer says that Chinese Fashion is starting to make an impact internationally. Beijing Fashion Week, here we come!
3. Rohit Gandhi & Rahul Khanna
Indian designers Rohit Gandhi and Rahul Khanna presented a concept-based show entitled 'Shadow Lines' at India Fashion Week 2009 in New Delhi. Together with sound and lighting, the performance was described as having so much drama it was 'like a play'. The designer duo took the interesting step of covering all the models' heads with black masks. This focused the eye on the designs instead of the face of the model. It definitely got our attention! Drawing inspiration from linear structures and geometrical lines, the pair say they are greatly influenced by modern contemporary art. Celebrating their 14th year in the industry, Gandhi and Khanna focus on a minimal look and innovative aesthetic, and their clothing is both modern and sophisticated.
2. John Galliano
This controversial designer is known for taking giant leaps of fashion faith. Every time his creations hit the runway, we know we are in for a good show. Galliano's presence and theatrics are overwhelming, with his use of vivid colors combined with large doses of his own personality. Since his history-making graduation collection, he has collaborated with a number of fashion houses, but most recently held the top spot at Christian Dior. Our favorite Galliano presentation was his Spring 1995 show, the year after his comeback from near bankruptcy. The fashion icon displayed gorgeous vintage wear that inspireed class by accentuating the curves and impeccable style for the real woman.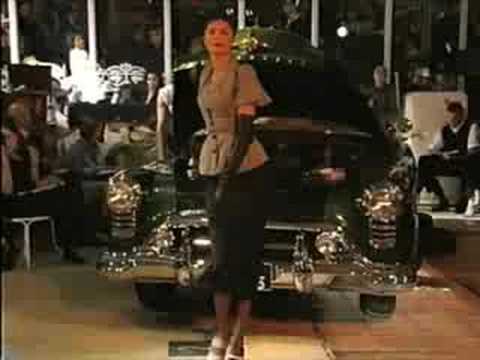 1. Alexander McQueen
McQueen was arguably the King of putting on a top runway performance. He incorporated technology with his spray painting robot in his Spring '99 show, styled a chess board for his Spring 2005 Ready-to-Wear collection and presented the angelic suspended figure of Kate Moss in his Fall 2006 show. McQueen had the unique ability to elevate a runway show to the point of spectacle. His performances were often theatrical, innovative, beautiful and above all, legendary.
And just as various runway presentations are appreciated and understood by different audiences, we guarantee that every FASHIONOTES reader's favorites list will feature different designers and collections. With bigger and more lavish events happening every year, we can't wait to see what the future holds for these shows, a little further down the runway.