We're all Britney fans at heart.  Growing up with the pop idol has influenced our style, culture and senses of what is cool. Remember "I'm A Slave 4 You", and the sexy low riders? "Oops I did it again?" and the red pleather catsuit? Her costumes were once shocking and exciting. It seems that Lady Gaga has now taken the reigns from Britney, leaving her in the dust of not quite surprising us.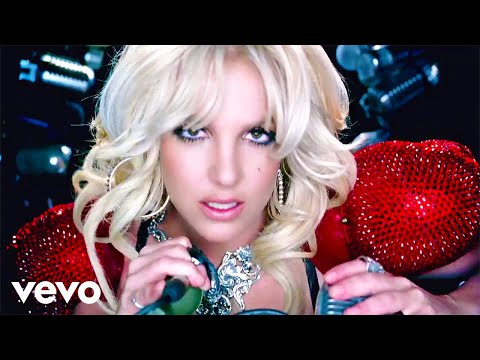 There's a little too much product placement for us: Makeup Forever Professional, SONY, Radiance by Britney Spears, PlentyofFish.com. What is she trying to do? Pay for her extravegant music video with ads? Also odd, wannabe Lady Gaga behavior: eyeless dancers. Of whom we assume are the people she wants to be around her because they can't judge her or see her product placement.  Also, the "finger painting". Do you think she was inspired by Hussein Chalayan's robotic dress painting moment?
Although the music video was unfocused, we did like her Tom Binns jewelry, red Swaroski studded skull shoudler pads, Rocky Horror Show mouth and the two Britneys fighting against each other (symbolic of her internal struggle?).
And we leave you with this odd and creepy computer generated smile. Britney, you really need to supervise the editors of your videos.